The orange drizzle is an English institution in the UK and I love it! I'm pleased to share my home recipe with a touch of French flavour. In France, we have the same cake that we call Le gateau a l'orange . The recipe is from Lyon in France's Auvergne-Rhône-Alpes region.
The Orange Drizzle is perfect for an afternoon tea or for a Picnic .
Ingredients
4 orange
4 eggs (large )
300g of butter unsalted
300g of sugar
10g baking powder
230g white flour
Icing
250g icing sugar
3 large spoon of orange juice
1 cake ring for about 10 people
Preparation time 30 minutes
Cooking time 20 mins
Serves 10 t0 12 people
1/ Wash the orange, With a zester burner, 4 oranges zest keeping the 4 oranges for the juice
2/ Melt 300g of unsalted butter in a pan
3/ Flour and butter the cake pan
4/ In a mixer, add 300g of sugar and 300g melted butter. Mix until Creamy.
5/ Chop the Orange zest in very small bites
6/ Add the juice of 4 oranges to 2 eggs
7/ Sift in the flour, baking powder and add the zest of the orange. Mix until well combined.
8/ Add the last 2 eggs, one at a time,
9 / Line a loaf tin with grease-proof paper, spoon in the mixture and level the top.
10/ Preheat the oven to 180C/Fan/Gas Mark 4.
Bake for 15-20 minutes until a thin skewer inserted into the middle comes out clean.
11/ While the cake is cooling in its tin , pour over the juice of 3 oranges on the cake.
12 / For the icing, mix the orange juice with the icing sugar.
Prick the warm cake all over with a fork and drizzle the glaze over the top of the cake, and top with candied orange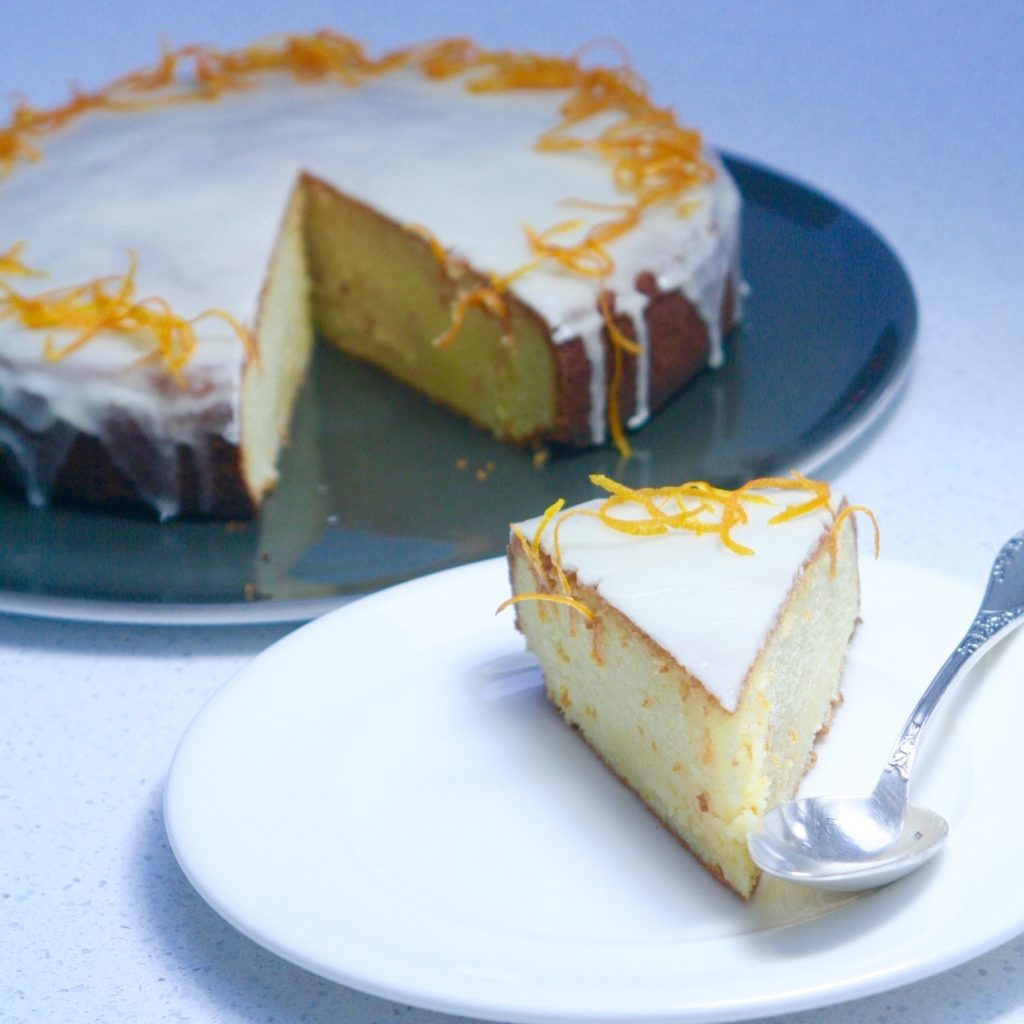 enjoy!! Also see selection of my delicious Desserts https://www.bertrandmunier.co.uk/online_shop/desserts/dessert by Chef Bertrand Munier