Canapes are exquisite bite-sized appetizers that are perfect for parties and events. These delectable treats are meticulously crafted by renowned Chef Bertrand Munier, a master in the culinary world. In London, you can experience the culinary delights of canapes with the convenience of delivery.
Canapes are like small works of art, carefully prepared and presented with creativity and precision. They are designed to tantalize your taste buds and impress your guests. These elegant bite-sized wonders come in a variety of flavors and textures, each one offering a unique culinary experience.
In London, where culinary excellence is celebrated, canapes add a touch of sophistication to any occasion. They are the perfect choice for weddings, corporate events, cocktail parties, and more. The wide range of flavors and options ensures that there is something to suit every palate and dietary preference.
So why not treat yourself and your guests to the exquisite flavors and elegance of canapes? Let Chef Bertrand Munier's creations take center stage at your next event. With delivery in London, you can enjoy the culinary artistry of canapes without the stress of preparation. Elevate your gathering and leave a lasting impression with these delectable bite-sized delights.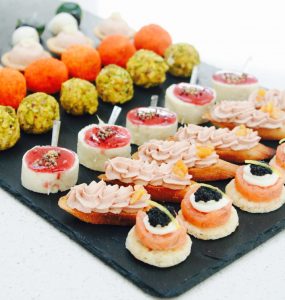 canapes
Showing 1–6 of 14 results